2-week holidays can be a bit rushed and we are so glad we decided on 23 days just to tour the South Island.   Each day we sleep till we wake and I stay on track with a really good breakfast of organic raw muesli and fresh fruit knowing the first meal of the day is healthy.
When we are ready we hit the road and travel till we reach something we want to see or experience.  There was an impressive suspension bridge near Murchison.   I went first and got halfway before I realised Geoff wasn't moving!  He was waving and saying, "Not going to do it!  No way."  I tried to encourage him but no luck.  When I got back he said he had got dizzy.   Sensible I suppose, you don't want a large man collapsing on a narrow steel bridge suspended high over a gorge.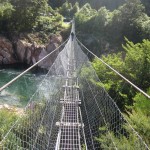 We did book in for the Abel Tasman cruise and that morning set the alarm.  One of NZ's most picturesque National Parks and we chose the package that sailed right up the coastline, then dropped us off at Tonga Beach.  From there we walked the 2-hour track back to Medlands Beach where the later cruise boat picked us up.  If you are in to hiking you can do the whole 12km rather than sailing.  But you just don't get the beauty of the coastline that way.
You just can't get bored here, truly.   We missed a whole heap of things that you might like to do:
—– Wine tours are hugely popular, have you seen how many NZ wines there are?!  And they sell the alcohol in supermarkets, whole rows of it.  Wineries abound in many regions, totally wasted on us.  Geoff drinks beer and I can get by on a $6 bottle of cheap fizzy stuff.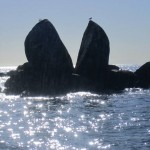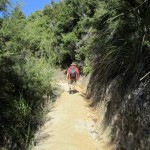 —– Adventure activities, whatever you desire, flying, white water, kayaking, hiking, flying foxes, biking.  There are too many to mention, most involve adrenalin, which I am not looking for.
—– Craft and curio places, jade factories, art galleries, museums.  Um yes, well we get kind of bored with those.   We did watch the jade carving in one factory and I resisted buying a pair of earrings to join my already huge collection.
—– Shows, theatres, movies.   No time but we might have enjoyed a couple of those.
And being creatures of routine we enjoyed getting to a caravan park about 3 or 4pm each day to settle in for the night and relax.  Geoff loves driving but there was no need to race through hundreds of km to reach the next spot and I am glad he factored in some relax time.   Helps me to stay on track for my dinner too!  Using the spacious clean communal kitchens to prepare a nice fresh salad.