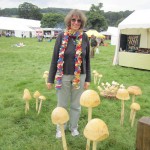 Perhaps when I was younger, the excitement of wearing gumboots, sloshing around in mud to climb into a small tent and listening to music, would have been on the to do list.  I admit the idea makes me shudder but it was interesting watching the passing parade of young people revved up and ready to party.
Stoner craft fair in Berkshire, the mushrooms are carved out of wood.
Reading Festival is one of the largest in the UK, bands from all over play for 2-3 days and about
50,000 arrive via train and car. The 'uniform' is wellies or gumboots – the Brits know their weather!  This footwear is topped with cut off shorts and jackets, sleeping bags and backpacks. Standing on Reading bridge we watched the long line of mostly teenagers walking the 2 miles along the riverbank towards the festival grounds. Security officials allow groups through in stages and the more affluent catch water taxis.  Fortunately we couldn't hear any of the music.
Over the weekend I took a train down to Southampton to visit an old friend Monica, we used to work together in South Africa. Long rambles in the soft English woods, catch up chats and nice meals – just what the doctor ordered! Southampton is possibly the best port on the world for cruise liners to arrive and sail from. As children we used to love our trips that went from Cape Town in South Africa to Southampton. From there my parents would drive north to visit family in Yorkshire. England is so pretty but I hate the weather! Now if only I could work out how to live in each country for the summer seasons and avoid winter for ever…..