The wind is whistling outdoors, we are only a stone's throw from Antarctica after all and it's blowing right around our campervan.  I made a quick run this morning down to the showers and back to my warm little home.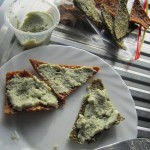 During the night I have our on board toilet which is such a treat, I love it!  And it means I can drink a cup of tea in the morning and not worry how many loo stops we need to make.  Geoff has a smoke break and I pop into the loo, life is good.
Photo of the crispy raw crackers and nut cream 'cheese' from eternaldelight.co.nz
Later on it was back down to the laundry $2 for a load and another $4 to dry it in the tumble driers.  Caravan park facilities are SO clean and organised here in New Zealand, spotless with lots of hot water.  If it was summer we might have sat outside and mingled with other campervanners in the evenings.  But we hibernate inside with a few glasses of Kahlua to keep us warm.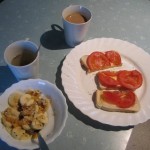 This morning I'm drinking my organic lapacho tea with dried stevia leaves to sweeten it.  Breakfast was yummy organic muesli with fresh orange juice, nectarines and banana.  Geoff is on his second cup of instant coffee and cigarettes and then had some dry toast and tomatoes.
A couple of nights ago we did a boat trip to the glow-worm caves, across Lake Te Anau.  Majestic mountains and deep blue lakes and then we crawled into the cave opening, just like an Indiana Jones movie! Dripping ceilings, rushing rivers masking the sound of my very bad sauerkraut gas problem.  Raw or not that fermented stuff does not do me any good.  I was polite and stayed at the back of the pack.  When we got into the boat to glide silently along in the dark quiet glow-worm caverns I had to restrain myself.
Geoff is determined to catch a fish; he has bought the license and also brought his fishing rod with him from Oz.  He will have to leave the reel behind when we go home, there is a danger of rock snot contamination.  No I did not make that up, it is some kind of algae problem.  He set off to the lakeside and I stayed inside the van reading and keeping warm.  The long vigorous walks to get my circulation going have been avoided.  It can't be healthy for me being outside in that wind surely.   We moved to the next spot and I ventured out to watch the master fisherman at work, he had seen a trout splashing.  My thoughts were with the fish hoping he would get away in between wanting Geoff to catch a fish and be happy that he had.  Conflicting emotions but I did not throw a rock in the water to warn the fish; luckily he disappeared to live another day.
On Thursday we did our Milford Sound cruise, we had studied the weather patterns and chose this day  – bless technology and being able to google the weather!  OH WOW, how insignificant does one feel amidst such magnificence.  Giants of mountains carved from glaciers, deep blue seas with dolphins riding in the wave crests of our boat.   And here we come along with our creature comforts, technology and pettiness to invade this pristine environment with polystyrene coffee cups and plastic packed sandwiches in hand.  Shame, shame, shame.
His 'n Her's dinners – my raw burgers crumbled into a salad with crachers and salad and some cooked veg.
Milford Sound – pristine and unspoilt
Lands End south of Invercargill on the Bluff.