Day 12 and we haven't had a serious fall out yet.  We have threatened to kill each other in a sort of serious joking kind of way.   Have any of you watched Jeff Dunham a very popular ventriloquist?  One of his characters is Achmed the dead terrorist, hilarious!  Achmed is dead but refuses to accept this even though he is a skeleton with bandages wrapped around his head and every time the audience laughs at him he screeches 'I keel you!!'   We find that if we threaten to 'keel' each other, it diffuses the tension.   http://www.youtube.com/watch?v=1uwOL4rB-go 
Geoff bless him, knows I don't want oily, meaty cooking smells in the campervan – so he sits outside in the cold with the little portable barbecue, smokes and drinks beer while cooking his food out there.  Or we use the communal kitchens at the caravan parks.  And he puts up with my paranoid South African ways of double-checking that he's locked ALL the van doors whenever we leave the van (even if it's just for 10 minutes).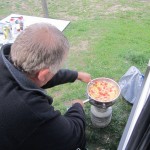 We had an amazing day in Queenstown.  First thing in the morning we took the Gondola cable car up the mountain to ooh and aah at the view.  There are heaps of activities for all ages – the luge, mountain biking where you use the cable car to come up and bike all the way down again, bungy jumping, paragliding.  Fortunately we both agreed on coffee drinking as our main activity up there.
After lunch we experienced the Onsen hot pools, by appointment only.  There are 6 private hot tub rooms on the edge of a mountain, a view over the river.  No one can see in and there are dials that open the sliding window all the way leaving us in the hot bubbly water with the real sky above us, leaning on the edge of the tub gazing out at the riverbed.  Luxuries like this make up for any bad days at work!  From there we headed back into town, parked by the Lake Esplanade and ended up at Bar Zero.  They provide you with snuggly snow jackets, hats and gloves to enter into the -8 degree bar totally carved out of ice.  The ice stools covered with cloths to sit on, the counter, table and even our drinking glasses made out of solid frozen blocks.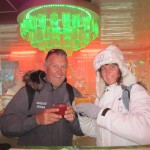 I bought myself some vegetarian sausages to have with my salads & cooked potato, a 50-50 meal as I call it.  50% raw fresh and 50% cooked.