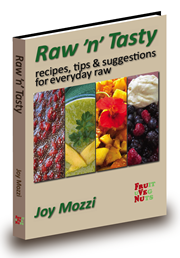 Have you found out what your food intolerances are? Are you feeling overwhelmed and depressed about it
You can smile again! There are still dozens of tasty tantalizing foods that you can combine and use in recipes and enjoy good health.
Raw 'n' Tasty Recipes, Tips and Suggestions for Everyday Raw is packed full of colour photographs with easy to make and enjoy dishes.

 And….  The recipes are all free from the major food intolerance groups: gluten, lactose, eggs and soy.
 And…  Many of the ingredients can be substituted. For example can't eat bananas? Substitute with pears, mangoes or other fruits. See the frozen coconut fruit tart recipe.
 And…  you receive a FREE Bonus Menu Plan Guide.  You've bought the fruit, veggies, nuts 'n' seeds and now what are you going to do with them?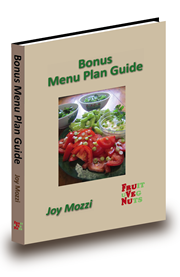 3 menu plans will take you through a daily guide step by step – breakfasts, lunches and dinners along with 5 more recipes to prepare in bulk and serve with each meal.
Click here for more information
 And…  Imupro customers/members are receiving a discounted price!
 Normally sold at $17, this has been discounted to $12 for you!
You can get started straight away!

Secure payment is via Paypal, using your bank account or credit card. You do not need a Paypal account to use the service.
Take control now and start your new week with at least 2 of the recipes and begin to experience the health benefits of including more fresh foods into your life.
healthy weight range
increased energy & vitality
decrease in joint pain – high alkaline foods, low acid foods.
build your immune system to resist allergies and asthma
reduce your risk of diabetes and other diseases
Plus many more benefits! Read Joy's health story in the e-book.
Health is not Everything but without Health,
Everything is Nothing.
Dr Bernard Jensen